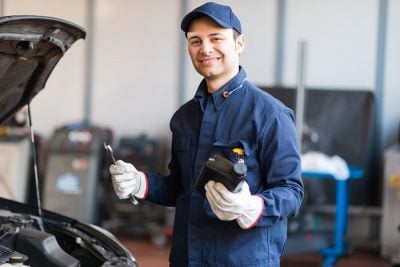 At Mercedes-Benz of Wilkes-Barre, you'll find skilled mechanics who can handle all your maintenance and Mercedes-Benz repair needs. If you ever run into issues with your luxury vehicle, turn to the expert technicians in our service center.
One common type of service we perform is mechanical repair. What does this entail?
Brake Repair
When you hit the brakes, a number of parts in your car need to work together to bring you to a stop. If any of those components is not doing its job correctly, your brakes could be less responsive. This creates a dangerous situation, which is why brake fixes are one of the most important repairs around.
Battery Replacement
Not all of the parts in your Mercedes-Benz vehicle are meant to last forever. Your battery is one of them. Without a working battery, your vehicle can't start up. Because this part is so important, our mechanics can repair your battery when it has problems, like not holding a charge, or replace it outright once it's reached the end of its useful life.
Wheel Alignment
If your ride is bumpier than usual, your wheel alignment might be off. This is a simple fix for our mechanics. We simply align your wheels so that they're at the proper angles in relation to each other and the road.
Detailing
Of course, you want to keep your luxury car looking great. A detailing can fix minor cosmetic issues and make your Mercedes-Benz car look like it did the day it rolled off of the lot.
If you're in need of top-quality care for your luxury vehicle, don't just settle for any mechanic. Visit our dealership and service center in Wilkes-Barre, PA. We have the expertise you need and the Mercedes-Benz parts and accessories that you're looking for.