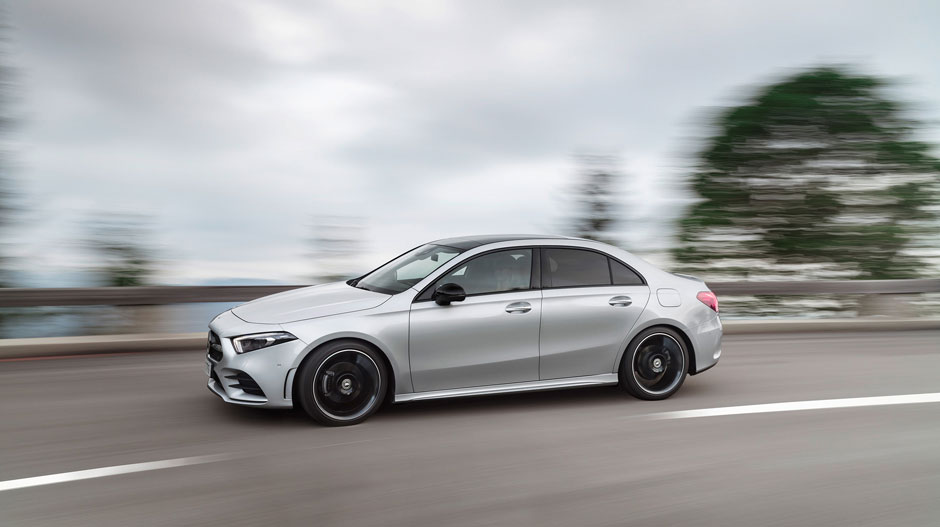 When it comes to new vehicles, Mercedes-Benz of Wilkes-Barre always ensures that their entries are going to be above and beyond what others are offering the price range, and quite possibly in the next range up as well. Such is the case with the all-new 2019 Mercedes-Benz A-Class: a powerful sedan coming to America for the first time this year, and replete with all the amenities that will set the bar for vehicles in the years to come.
From first glance, you notice the design of the 2019 Mercedes-Benz A-Class: classic. Smooth, dynamic lines carry from the hood, along the body, and terminate at the trunk for an aerodynamic and fun style that looks as fun as it feels to drive. LED lights shine your path on the outside, and on the inside, they guide it exclusively.
When you get behind the wheel, the first thing that strikes you is the unmistakable cradle of luxury and sophistication the Mercedes-Benz A-Class brings to your driving experience. With available 10.25-inch touchscreens entertaining and navigating you through every turn and straightaway in your journey, you're going to wonder how other vehicles got away with calling themselves "luxury." All of the technology features are capable of updating themselves via over-the-air software upgrades, keeping your vehicle on the cutting edge of MBUX® technology.
When it comes to safety, there's no other that can match Mercedes-Benz. The 2019 Mercedes-Benz A-Class comes with features like available Parking Assistance Packages and active safety features like dynamic cruise control with emergency braking in case of something happening out of the ordinary.
So when you're ready to experience the 2019 Mercedes-Benz A-Class for yourself, our Wilkes-Barre Mercedes-Benz dealership will provide you with a test drive you'll never forget once this new model arrives in the summer. Until then, visit us at Mercedes-Benz of Wilkes-Barre for your luxury vehicle needs.