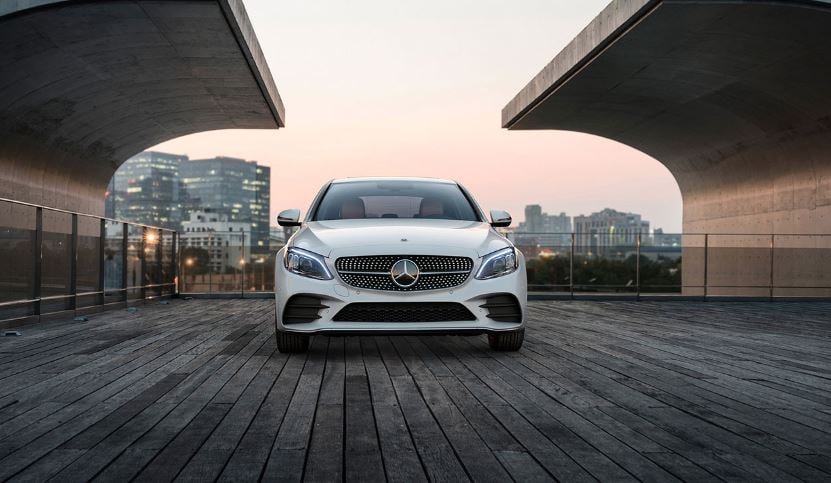 Here at Mercedes-Benz of Wilkes-Barre, we're always excited to learn more about a new or upcoming vehicle near Clarks Summit, PA. One model that's getting some attention lately is the 2021 Mercedes-Benz C-Class. This vehicle is getting ready to offer everything you love about the 2019 Mercedes-Benz C-Class alongside an upgraded interior and some of the latest in-car tech.
The first thing to note about the 2021 Mercedes-Benz C-Class is that it's clearly taking some influence from the current Mercedes-Benz S-Class. That's not a big surprise, considering that it's the flagship model in our lineup. The new Mercedes-Benz C-Class will take some cues from this high-end model by incorporating multiple displays and advanced touch controls.
The two displays in the 2021 Mercedes-Benz C-Class are positioned similarly, but smaller than the ones found in the Mercedes-Benz S-Class. The infotainment display has a landscape orientation and the dedicated climate control area can be found right below the main touchscreen. This model continues to take influence from the Mercedes-Benz S-Class by sporting a similar steering wheel.
Details about the 2021 Mercedes-Benz C-Class are otherwise scarce. We do know that it's aiming to be the most elegant model in its segment, taking more influence from the Mercedes-Benz S-Class when it comes to its exterior as well. You can also expect to see multiple engine options and a plug-in hybrid model. This vehicle could even get an updated version of the MBUX infotainment system. We'll learn more when it gets a formal unveiling next year.
Whatever you're looking for in a luxury car, we'll help you find it. Visit our Mercedes-Benz dealership near Hazleton, PA and take a look at our vast selection of new and pre-owned Mercedes-Benz models today. We can even answer questions about upcoming vehicles. We look forward to assisting you!