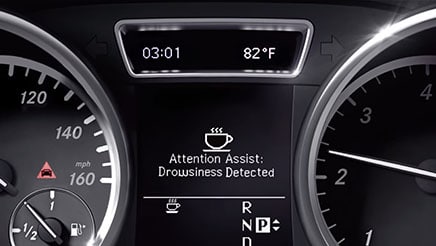 There are myriad reasons to love your Mercedes-Benz car, but have you ever considered what your new or certified pre-owned Mercedes-Benz car does to keep you safe behind the wheel? For the engineers at Mercedes-Benz, its priority number one, and they keep making innovations that redefine just how we keep our customers safe. You might not be aware of them, and that's why today Mercedes-Benz of Wilkes-Barre wants to tell you just a couple of the features that new Mercedes-Benz cars have that will keep you safe.
Cruise Control has never been better than it is today, and its best form is found with Mercedes-Benz vehicles. Our Active Distance Assist DISTRONIC® provides you with a wide surveillance of the traffic around it, as well as monitoring the posted speed signs to ensure that your vehicle isn't speeding. From there, it can sense slowing, stopping, or accelerating traffic conditions and brake down or speed up the car accordingly. As an added bonus, you can select how much distance you keep in front of you and the vehicle in front of you to adjust to your comfort levels.
Everyone fears automobile accidents. However, Mercedes-Benz has decided to make sure your vehicle can do everything it possibly can to lessen the impact in the event of the unavoidable. With the exclusive PRESAFE® system, your Mercedes-Benz recognizes when a crash is inevitable, and does everything it can to minimize injury. Head restraints adjust to provide support against airbags, the windows and sunroof close, and the seat belts pre-tighten to minimize jarring at the moment of impact. And if that didn't sound enough like the future, the available PRESAFE® Sound feature emits a harmless noise tuned to trigger a reflex in the inner ear to protect against the violent pressures of a car crash.
When you get behind the wheel of a 2019 Mercedes-Benz C-Class or any other model, you've literally never been safer. Stop into our Wilkes-Barre, PA area Mercedes-Benz dealership for an experience like no other on the road.