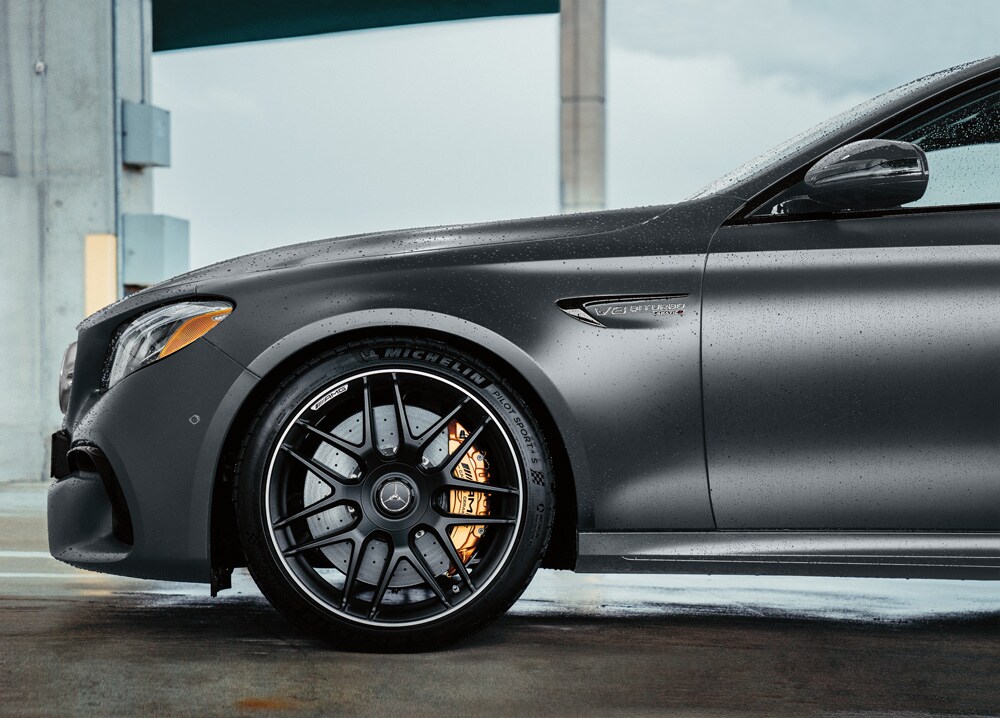 "If you want a stylish mid-size luxury car that drives well, has a first-rate cabin and is packed with technology, the [Mercedes-Benz] E-Class should meet your needs." That's what Cars.com had to say about the 2019 Mercedes-Benz E-Class. A good part of that technology is safety-focused, making cars like the 2019 Mercedes-Benz E 300 4MATIC® Sedan a great choice for safety-conscious drivers.
With Car-to-X Communication, the future is here. This innovative feature automatically alerts a central notification system of certain dangers. This includes detected wheelspin, activation of windshield wipers, or use of hazard flashers. This information is then sent out to other Mercedes-Benz drivers via in-dash displays or announcements, giving those drivers advanced warning that allows them to stay out of harm's way.
Active Brake Assist is another feature designed to keep you and your passengers safe and sound. The feature uses radar sensing to detect vehicles, objects, or pedestrians ahead, then takes steps to provide an appropriate level of braking to avoid a collision, either aiding your own braking efforts or initiating them for you if it senses a collision is imminent. Crosswind Assist is another impressive feature. By monitoring data collected from the car's Electronic Stability Program (ESP®), electric power steering, and suspension sensors, it can detect strong side winds and help keep the car on course using precision application of the brakes on one side.
We've only scratched the surface of all the ways the 2019 Mercedes-Benz E-Class helps provide peace of mind. For a similar sense of calm even before you drive home in your new Mercedes-Benz vehicle, we recommend preparing for your car-buying trip. Narrow down your options, bring a friend to keep you calm, write down any questions you have, and schedule a test drive with our Mercedes-Benz dealers so that the car you're planning to drive is waiting for you when you arrive at Mercedes-Benz of Wilkes-Barre near Scranton, PA.