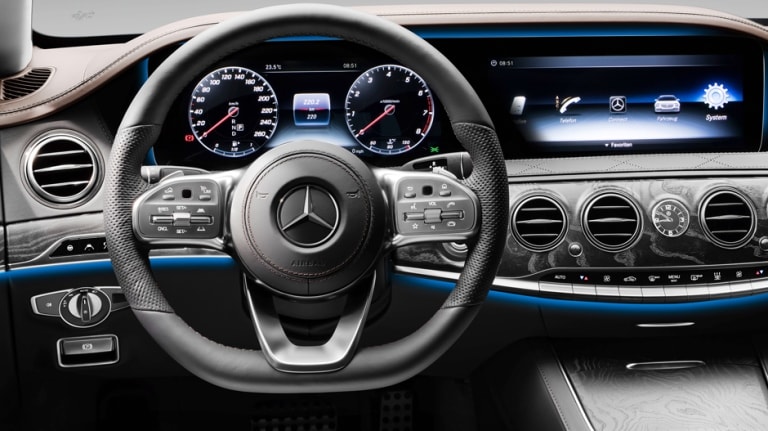 Here at Mercedes-Benz of Wilkes-Barre, we know that many drivers want the latest technology in their luxury cars. When you visit our Mercedes-Benz dealers in PA you'll find plenty of models that offer innovative safety features and the connectivity features you need. One area where the industry has rapidly been evolving is in self-driving tech. That's why we're not surprised to learn that an upcoming version of the Mercedes-Benz S-Class will offer Level 3 autonomous driving technology.
In recent months, Mercedes-Benz engineers have been testing out an autonomous Mercedes-Benz S-Class in the United States. American roads can pose some unique challenges for self-driving cars. Street signs don't look the same as the ones found in Europe. Different lane markings can trip up a vehicle's sensors. Even school buses can cause problems for a fully-autonomous vehicle! Automakers need to be confident that a car can handle anything before a completely self-driving car makes its debut.
That's why the Mercedes-Benz S-Class model that arrives in 2020 will likely offer Level 3 autonomous tech. Self-driving cars are classified between Level 0 and Level Five, or fully-autonomous. A Level 3system can control most driving functions in certain conditions. It can monitor the environment around you and let you know if you need to take over. A Level 3 autonomous car could need a driver to take over at any time. There's no napping in these vehicles, but this tech still represents a big step forward for the industry!
So if you're in the market for luxury cars that offer the latest tech, make our Pennsylvania car dealership your first stop. We'll make it easy to find the ideal luxury vehicle and we can answer your burning Mercedes-Benz financing questions. We look forward to assisting you!